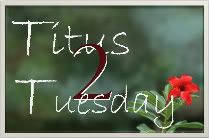 Click
here
to Join Titus 2 Tuesdays!!!
What have you learned from a woman this we
ek
(or ever)?
It's been awhile... :) Welcome back to me. hehe
This week, I decided to write about my friend, Christi. Where do I begin?
She's wonderful.
She's encouraging.
She puts up with my roller coaster moods when it comes to being healthy. :)
I met Christi when she walked into the wonderful world of Scouting. I don't recall what my first impression of her was... but I think I liked her bubbly personality. Over the last couple of years, Christi and I have managed to maintain our sanity levels by sharing our journeys of faith, singleness, drama, and many more topics!
I love getting the opportunity to share with her everyday, and joke around with her, yet have serious conversations about life. Her corny jokes and serenading me may have something to do with it too!!
Christi -
I love ya and I look forward to many more years of sharing the journey! :)