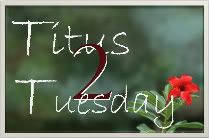 What have you learned from a woman this week
(or ever)?
I thought since last week I shared about my mom, that this week I'd share about my stepmom. My stepmom used to be this annoying woman who (I thought) had the goal of letting me never see my dad again. In the time I've been blogging, I've shared a lot about my relationship with my mom and my dad, mostly the downs, because they've definitely shaped my journey and who I've become.
My stepmom is no different. There were many times when they (being my dad and her) would have her nephews for the weekend... instead of me and my brother. When my brother lived with them, he was constantly complaining about her. He still does and some days I can't blame him. In the last couple years as my relationship has progressed with my dad, so has my relationship with my stepmom. There are a lot of things I've come to learn about her.
Last week I told you all about my mom and my "mommy wishlist." Let me preface this next sentence with: this is very hard for me to say. I've been churning it over in my brain for awhile and it doesn't get easier the more times I say it. My stepmom, in all honesty, is my mommy wishlist.
When I'm on the phone with her, she doesn't hang up the phone until she says "I love you." She is.. how do I say.. a lot more loving than I am used to. At first it was scary for me, but I've managed... and I enjoy it.